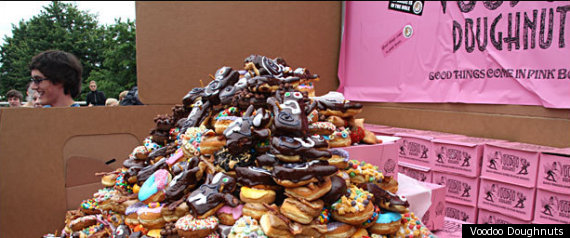 On Saturday, Voodoo Doughnut of Portland, Oregon set a new record for the largest box of doughnuts ever.
The bakery's 7x7x5 pink box weighed in at a hefty, devilish 666 pounds. (The weight intentionally fit in with the shop's eponymous "voodoo" theme.) The Guinness Book Of World Records team was on hand to confirm that Voodoo Doughnuts had broken the world record. According to NBC Bites, there were 3,380 doughnuts in the box. The doughnuts held in the box were sold in Voodoo's three Portland stores over the weekend, an employee told Huffington Post.
According to that same employee, the biggest container Voodoo Doughnuts normally sells is called a "coffin." It costs $100 and contains three "Voodoo Dozens," each containing 13 doughnuts. At "coffin" pricing, the record-breaking box would cost $10,000.